Samples
Here you find some RGG samples with corresponding .rgg files. This page will be updated occasionally.
Fisher`s Exact Test for Count Data
Performs Fisher's exact test for testing the null of independence of rows and columns in a contingency table with fixed marginals. Click here to download RGG definition file and the sample data.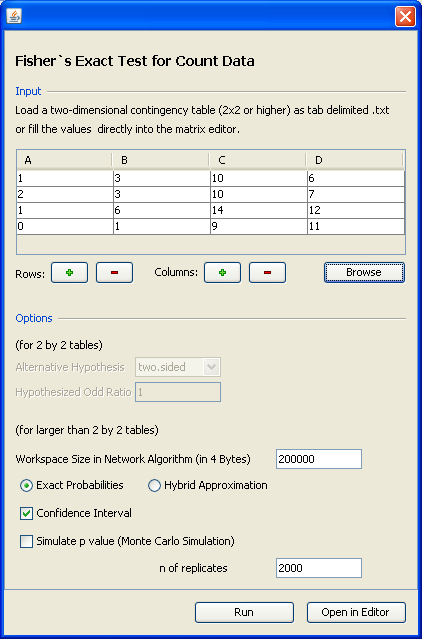 The arrayQualityMetrics package
GUI for the R package "arrayQualityMetrics". For further information go to here. Click here to download .rgg file and the two sample Affymetrix arrays.
Microarray Import and Normalization Device (MIND)
The MIND is an easy-to-use but powerful GUI for microarray import. MIND consists of three RGGs for Single- and dual color microarrays. Click here to download .rgg files and sample data. (R v2.8.0 or higher required)
Prediction Analysis for Microarray Data with 'PAMR'
ATTENTION: This GUI does not support survival time data. To do prediction analysis for survival time data look for Pamr - Survival Time. Click here to download the .rgg file. To create a sample data, please use one of the "MIND"s. (R v2.8.0 or higher required)